Hello,
I recently purchased and received a LibreRouter. Unfortunately, it seems that it was damaged during shipping.
There is a small circuit board that appears to have been originally mounted to a section of plastic by two screws. The plastic that the screws were driven into broke and the circuit board was able to move freely inside of the LibreRouter. Beyond the two screw mount points, there were 2 antenna cables and 1 ribbon cable connecting the circuit board to other points within the LibreRouter. It seems to me that once the circuit board had broken away from the section of plastic the weight of it was too much for one of the antenna cables. That cable broke close to the end where it connected to the small circuit board. This left the connector still attached to the small circuit board.
I had replied to the original email thread where I inquired about purchasing the LibreRouter and Nico suggested that I post on this forum asking for help.
I'm here is a link to a picture I took that shows the damage. Let me know if you can't view it.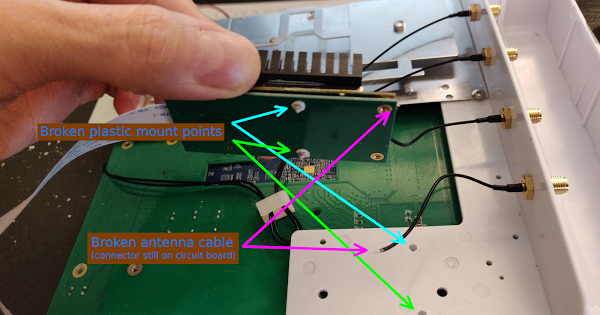 Thanks,
Dave